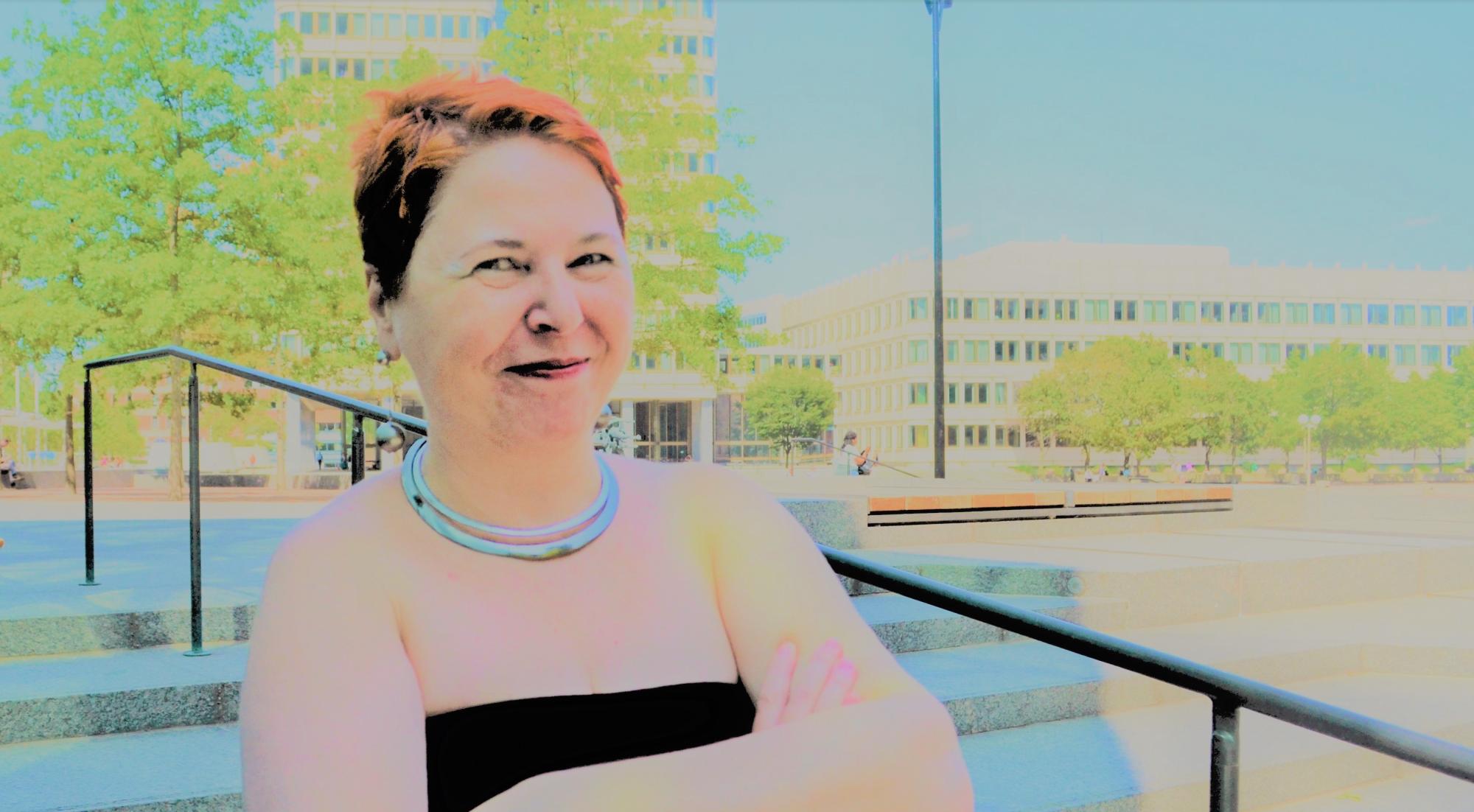 In front of the Radcliffe Institute for Advanced Study at Harvard University, Cambridge, MA.
" The quality of artistry is the capacity to assume innocence at will, the quality of experiencing innocence
as if for the first time "
Robert Fripp of King Crimson
"Music has played a vital role in our ability to persevere."
King Crimson, Level Five.
Along with my architecture, singing is one of the deepest and greatest communication channels for me to connect with my inner-self, feelings and to express myself to the outer world "as a social introvert". While singing, I feel my wholeness through my voice as a human being!
.


I can sing two octaves from E3 to G5, my vocal range is mezzo-soprano, and my favorite music genres to sing is usually alternative and folk-rock. My current intention is to improve my vocal expressiveness and techniques in order to be able to use my voice in a much more creative and effective way; and to find and explore its artistic potential. I am open to establish productive and

creative

dialogs with other singers and musicians to learn and

exchange

recent information on voice exercises and techniques; and collaborative projects in music and singing to improve and make progress together.


.


My favorite instrument is bass guitar as a music lover, and my musician of all time is Stanley Clarke, Grammy-winning bassist, producer and composer in jazz. My music band of all time is King Crimson (progressive rock/progressive metal).
When I listened to Stanley's bass guitar during his live performance with Omar Hakim, Herbie Hancock and Wayne Shorter at the Istanbul Open Theater in 1991, I admired how he was a true master in his technics and artistic expressiveness. In addition to him, I really enjoy listening to some pioneering bass, electro and acoustic

guitarists

in jazz, rock and their subgenres, such as Marcus Miller, Kurt Rosenwinkel, Mike Stern, John McLaughlin, Al Di Meola, Dave Holland, Eberhard Weber, Robert Fripp, Tony Levin (and Stick Men featuring Tony Levin, Pat Mastelotto and Markus Reuter), Andrew Keeling, a multi-faceted composer, musicologist and musician (in progressive rock, classical music), Mark Knopfler ( & Dire Straits), and Sarp Maden, Gurol Agirbas, two Turkish bass guitarists in jazz, Erkan Ogur, pioneer of fretless guitar, composer and guitarist in Turkish folk music, Bulent Ortacgil, Turkish composer, singer, guitarist in folk-rock and relevant music genres, and MFO, one of the leading Turkish rock and pop bands since 1971.
Acoustic

performance of "Heroes"
by my vocal and Fender!
y
My first like by Robert Fripp of King Crimson (on March 2nd, 2021) for my acoustic performance of "Heroe

s"!
y
In addition, my ears are always open to jazz fusion, vocal jazz, classical jazz, funk, progressive rock, symphonic rock, art rock (in particular impressive artistic and conceptual statements in this genre), pop rock, hard rock, rock music with particular elements of classical music (such as baroque rock), soul, R&B, emotional ballads, Western Classical music, opera, some pioneering Turkish composers in Western Classical music, musical theaters, contemporary and modern dance music, etc.
Prior to learning how to read and write, my never-ending journey in music began when I was a child: I used to sing all days and nights, and music has been always a very significant integral part of my life. I was raised by listening to leading singers and composers of Turkish Classical music (such as Zeki Muren, Zekai Tunca, Muazzez Abaci, Emel Sayin, Muzeyyen Senar, etc.) (1). My ears are very familiar with some music instruments, tunes and terminology whose cultural origins and histories go back to the Middle East, Central Asia, Mediterranean basin and in particular, modern Turkish culture etc., such as kanun, ud, tanbur, and "makam" (2), such as Hicaz, Humayun.

Some of my favorite women singers, musicians and composers are Suzan Vega, Joni Mitchell, Carole King, Alanis Morrissett, Annie Lennox, Sarah McLachlan, Kate Bush, Bjork

,

Laurie Anderson, Tori Amos, Sade, Sheryl Crow, the Cranberries, Tina Turner, Cher, Celine Dion, Aretha Franklin, Manhattan Transfer (vocal jazz band), Swing Out Sister, Everything but the Girl, Nuket Ruacan (1951-2007), Turkish woman singer in jazz and educator in musicology, Ayten Alpman (1929–2012), Turkish woman singer in jazz and pop, and Sebnem Ferah (1972-present), Turkish woman singer, songwriter and composer in rock.
At my elementary school, I used to sing and organize song contests even during our 10-minute breaks between classes. When I was at 8 years old, my journey with a music instrument began with my mandolin. For the first time, I officially took on the stage with my mandolin and sang with my classmates as a part of the end of year ceremony organized by my elementary school. I remember very well how I enjoyed singing and playing for our audienc

es.
At my high school, my journey with music went ahead and I sang in our a Capella chorus. Having three or four and big music halls with three pianos, our music teachers were very good at their instruments (such as violin, guitar, piano, accordion, etc.) and we were so lucky. In the meantime, they had a very significant influence on my love with polyphonic and Western Classical music, opera in the Republic of Turkey and in the world, such as "the Turkish Five", the first generation of the polyphonic music in modern Turkey, Cemal Resit Rey (1904-1985), Ulvi Cemal Erkin (1906-1972), Hasan Ferit Alnar (1906-1978), Ahmed Adnan Saygun (1907-1991), Necil Kazim Akses (1908-1999) who used Turkish folk music elements in Western symphonic style. For Western composers and conductors, in particular, Romantic and Baroque music are my favorite; Rachmaninoff is my most favorite composer with his piano concertos in Western Classical music. In collaboration with the MIT-Turkish Student Association and the Harvard-College-Turkish Student Association, I organized two piano recitals by Gulsin Onay (a world renowned Turkish woman virtuoso in Western Classical music and the soloist of the Presidential Symphony in Ankara) at MIT and Harvard University in 2015.


My architecture education gave me one of the biggest gifts of my life: I picked up my first guitar with my guitar partner in 1989; it was an acoustic Ibanez. Playing as a rhythm guitar and singing as the lead vocal during my architecture education, I dived into the depth of music with my two guitar partners and gave many concerts in my faculty, other universities and finally, began to play and sing at "Istanbul Art House" ("Istanbul Sanat Evi") as a professional musician for a period of time in 1992. Our genres were usually folk-rock and alternative rock. Throughout my architecture education, I enjoyed exploring jazz, rock, Western Classical music and their subgenres along with live performances by leading international and national musicians in Istanbul: I never missed concerts by the Istanbul State Symphony Orchestra at the Ataturk Culture Center on Friday evenings, leading concerts at the Istanbul International Music Festivals, and jam sessions in some leading jazz clubs, such as Nardis.
.


When I was a special Turkish fellow at Harvard University (2006-2007), I joined the MIT Women's Chorale and sang with them in Cambridge. Our repertoire covered a wide range of styles, from medieval to contemporary, including both sacred and secular music. It was another joy for me to sing with a diverse and multicultural women group from the international communities at MIT and Harvard. While our primary focus was singing, we were ending each rehearsal with conversation on various topics in creative artistic projects, different types of music, intellectual life in Cambridge, Boston, the U.S. and our home countries as well as our scholarly endeavors. This interactions strongly fostered our international friendship through the universal spirit of music.


.


Musical theaters and musical films are another

joy

for me in this realm: I saw one of the leading Turkish musicals "The Joint Venture Company of Wonders" ("Hisseli Harikalar Kumpanyasi", the first Turkish musical took its stage on Broadway) three times in

Istanbul

in 1980; can watch "West Side Story, Phantom of the Opera, Jesus Christ Superstar, Cats, My Fair Lady, Evita, Hair, Kiss me Kate and Mamma Mia" again and again. I enjoy dancing casual, "Swing Dance Nights", usually spend most of my time by dancing at my home. If I have a convenient time, I

would

like to learn "Swing", and investigate "sound art" and "musical storytelling".


.


Finally, I found myself in the Guitar Center on Boylston Street in Boston to buy my new acoustic Fender after completing my advanced academic

research

project at MIT. There is no word for me to express how I was feeling when I began to sing with my new acoustic Fender for the first time after a while. I owe heartfelt thanks for his :) accompanying me in my new chapter in singing.


.


You can find me at concerts by the MIT Symphony Orchestra, the MIT Jazz Ensemble, Boston Symphony Orchestra,

at

Wally's, one of the oldest jazz clubs in Boston, and "get-togethers and jams for acoustic musicians" in Boston and Cambridge since those moments are my most joyful time here.


.


1.Please see for Turkish music, see, http://www.turkishmusicportal.org/en/types-of-turkish-music/turkish-classical-music-makams; accessed on July 9

th

2018.


2.Please see for "makam", http://www.turkishmusicportal.org/en/types-of-turkish-music/turkish-classical-music-makams; accessed on July 9th 2018.
Stanley Clarke, To Be Alive